DC-DC very high efficiency BUCK micro-regulator – with fixed or variable output voltage and current; built-in or external or controllable settings
Input: 8.5 to 55V; output: 4V / 100W to 40V / 400W
This micro buck regulator, ideal for charging various batteries, is housed in an all-aluminum case and molded in a resin that homogenizes its internal temperature and makes it insensitive to humidity (IP67), dust, shocks and vibrations. It delivers:
an available power of 100W under 4V, up to 400W under 40V
a current of 25A to 10A, as the output voltage increases from 4V to 40V
To optimize the performances of this micro controller (efficiency up to 98%), please see the table in the PDF technical datasheet; it directly determines the most suitable operating modes:
output current "Iout max" according to chosen "Vout"
(extrapolated) knowledge of efficiencies, according to "Iout" and "Vout"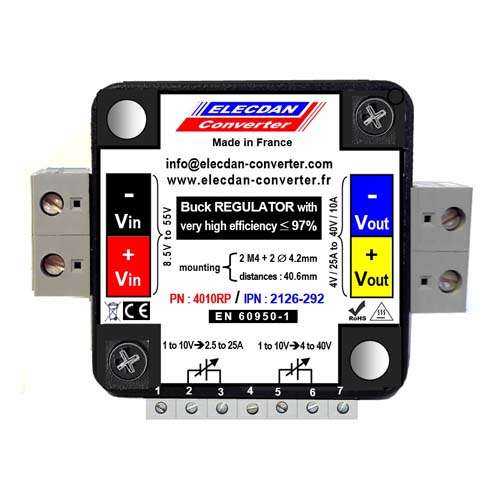 INPUT VOLTAGE Vin : any voltage, from 8.5V to 55V, necessarily a few volts higher than the chosen output
OUTPUT VOLTAGE Vout and possible choices:
either adjustable from 4 to 40V with inbuilt "10 rounds" trimmer of diameter 3mm
or controllable by 1V to 10V, from 4V to 40V; ex: 5V → 20V
or adjustable from 4 to 40V by external resistor of 15kΩ

to 80

Ω
or factory-set fixed value, previously chosen
OUTPUT CURRENT Iout:
0 to 25A, according to the load and optimizations of the table, for Vout equal to or higher than 3V
examples of maximum permitted currents for Vout = 24V:

Iout max = 14A for Vin minimized at 27V; efficiency = 97%
Iout max = 13A for Vin fixed at 41V; efficiency = 96%
Iout max = 12A for Vin increased at 55V; efficiency = 95%

adjustable from 2.5A to 25A with inbuilt trimmer having a "10 rounds" axis of diameter 3mm
or controllable by 1 to 10V, from 2.5 to 25A; ex: 5V → 12.5A
or linearly adjustable (1A/Ω) from 2.5 to 25A, with external R of 2.5 to 25Ω
or factory-set on a fixed value (ex: 14A), for Vout fixed at 24V
NB: stability, at constant current, better than 2%, Vout varying from 3V to Vout max.
ISOLATION : no; -Vin and -Vout terminals are internally connected
LINE and LOAD REGULATIONS: better than 2%
RESIDUAL : < 0.5% of Vout
SWITCHING FREQUENCY : approximately 390kHz
ON / OFF and remote regulation S+ : options
THERMAL CHARACTERISTICS
thermal resistance of the case: 6°C / W
maximum case temperature: 100°C
storage temperature: -50°C to +120°C
suggested heatsink: black aluminum, 150 x 150 x 2mm (thermal resistance: approximately 2°C / W)
CASE
all aluminum; 50.5 x 50.5 x 26 mm
weight: 140g
fastening: 2 unthreaded through-holes of diameter 4.2mm, and 2 M4 blind-holes on support side, center-to-center distances: 40.5 x 40.5 mm
SCREW TERMINAL BLOCK
for "power" connections: Phœnix, 4 connections 8mm2
additive connections: 4 or 5 connections for wires of diameter up to 1.8mm
STANDARDS and SPECIFICATIONS
CSA / 60950-1 / RoHS
MTBF > 2.106 hours, at full load, base at 45°C
IMPORTANT: To see the available versions, options, examples, applications (controlled automatism, double safety battery charging, heat treatments with external manual settings), please download the PDF datasheet.