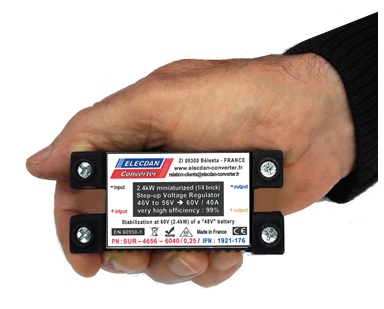 This DC-DC boost converter transforms a 48V battery into a very high efficiency, stabilized generator 60V / 40A
Main characteristics:
Input: 46 to 56V DC
Output: 60V / 40A / 2.4kW
Efficiency: 99%
Line and load regulations: better than 1%
Limited overloads by automatic hiccup of output voltage, with Vout = Vin, allowing the high starting current of an engine, for example.
NB. Optimal fuse to be chosen according to your high starting current.
Compatible quarter brick module.
Dimensions and weight, with connectors: 85 x 40 x 32 mm, 190 grams.
Case temperature: -40°C to +100°C. Ambient temperature: -40°C to +85°C.
Thermal protection: lowering of Vout = Vin (automatic reset)
Neutralized vibrations and tropicalization by IP67 sealing.
Standards and specifications:

marking UL / CUL 60950-1 ; RoHS
flammability: horizontal test for electrical applications, according to UL 94 HB standard
MTBF (case at 45°C): 800 000 hours.
Please see the PDF file.