DC-DC very high efficiency BUCK mini-regulator – with fixed or variable output voltage and current; built-in or external or controllable settings
Input: 17 to 60V; output: 5V / 190W to 25V / 625W
This mini buck regulator, with multiple current and voltage configurations, is housed in an all-aluminum case and molded in a resin that homogenizes its internal temperature and makes it insensitive to humidity (IP67), dust, shocks and vibrations. It delivers:
an available power of 190W under 5V, up to 625W under 25V
a current of 38A to 25A, as the output voltage increases from 5V to 25V
To optimize the performances of this mini-controller (efficiency up to 98%), please see the table in the PDF technical datasheet; it directly determines the most suitable operating modes:
output current "Iout max" according to chosen "Vout"
(extrapolated) knowledge of efficiencies, according to "Iout" and "Vout"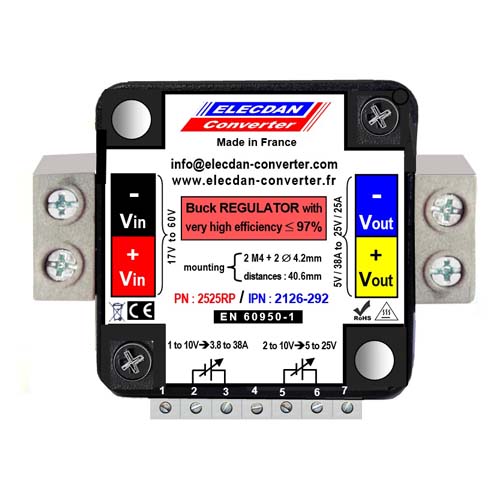 INPUT VOLTAGE Vin : any voltage, from 17V to 60V, necessarily a few volts higher than the chosen output
OUTPUT VOLTAGE Vout and possible choices:
either adjustable from 5 to 25V with inbuilt "10 rounds" trimmer of diameter 3mm
or controllable by 2V to 10V, from 5V to 25V; ex: 5V →

12.5V

or adjustable from 5 to 25V by external resistor of 9kΩ

to 10

Ω
or factory-set fixed value, previously chosen
OUTPUT CURRENT Iout:
0 to 38A, according to the load and optimizations of the table, for Vout equal to or higher than 4V
examples of maximum permitted currents for Vout = 25V:

Iout max = 25A for Vin minimized at 28V; efficiency = 97%
Iout max = 21A for Vin fixed at 44V; efficiency = 96%
Iout max = 17A for Vin increased at 60V; efficiency = 95%

adjustable from 3.8A to 38A with inbuilt trimmer having a "10 rounds" axis of diameter 3mm
or controllable by 1 to 10V, from 3.8 to 38A; ex: 5V →

19A

or linearly adjustable (1A/Ω) from 3.8 to 38A, with external R of 3.8 to 38Ω
or factory-set on a fixed value (ex: 35A), for Vout fixed at 12V
NB: stability, at constant current, better than 2%, Vout varying from 4V to Vout max.
ISOLATION : no; -Vin and -Vout terminals are internally connected
LINE and LOAD REGULATIONS: better than 2%
RESIDUAL : < 0.5% of Vout
SWITCHING FREQUENCY : approximately 650kHz
ON / OFF and remote regulation S+ : options
THERMAL CHARACTERISTICS
thermal resistance of the case: 6°C / W
maximum case temperature: 100°C
storage temperature: -50°C to +120°C
suggested heatsink: black aluminum, 150 x 150 x 2mm (thermal resistance: approximately 1°C / W)
CASE
all aluminum; 50.5 x 50.5 x 26 mm
weight: 160g
fastening: 2 unthreaded through-holes of diameter 4.2mm, and 2 M4 blind-holes on support side, center-to-center distances: 40.5 x 40.5 mm
SCREW TERMINAL BLOCK
for "power" connections: special, 4 connections 33mm2
additive connections: 4 or 5 connections for wires of diameter up to 1.8mm
STANDARDS and SPECIFICATIONS
CSA / 60950-1 / RoHS
MTBF > 1,500,000 hours, at full load, base at 45°C
IMPORTANT: To see the available versions, options, examples, applications (controlled automatism, recovery of braking energy of about 600 joules, determination of Imax and speed of an industrial fan by integrated settings), please download the PDF datasheet.