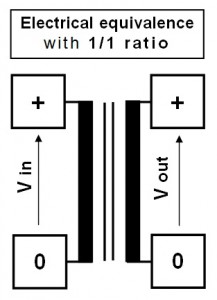 This DCDC voltage transmitter (insulator) is perfect for high power. It is extremely efficient and rapid.
Possible input voltage Vin : 18 to 54V (9 to 36V upon request)
Output voltage Vout : 18V / 90W to 54V / 270W
Output power Pout : applied input voltage multiplied by 5A
Efficiency Pout / Pin : increases according to power, from 94% to 97%
Accuracy of Vout, at full power: Vin – Vout ≤ 1V
Response time: < 5 microseconds
Input/output insulation: 2000V DC
Protections: overloads; short-circuits; temperature rise; sealing IP67
Mini case: 90 x 35 x 15 mm to be mounted on a heat conducting wall
Easy assembly of similar modules: in parallel or in series
Please contact us for more information, customization possibilities and quotation.