In 2021, the characteristics of this product have been further improved significantly. Please see the updated information here. Thank you.

This threshold detector, self powered by the low voltage it controls, stands out by the "proper functioning" contact (isolated) that it can deliver from a voltage of only 0.46V.
Ideal for the control or monitoring, occasional or permanent, of single elements such as individual cells of fuel cells or photovoltaic modules.
In simultaneous monitoring of elements in series, these detectors are free from the reference of zero, while delivering a global information of logic type "AND".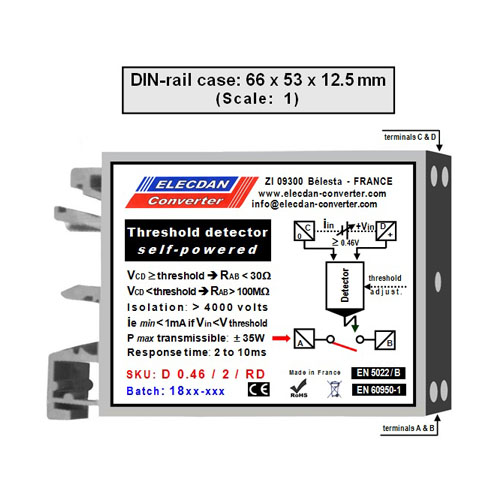 Standalone, despite the very low voltage available:
Self-powered by the monitored input voltage Vin (0.46V to 2V and higher), this voltage threshold detector (0.46 to 2V) is a quadrupole that: simplifies wiring by removing power supplies, delivers a "proper functioning" contact, gets rid of referencing the electrical grounds.
Examples of applications: to highlight weak cells, individually, on a hydrogen fuel cell (see diagram on the PDF datasheet), to detect an abnormal DV on a conductor.
Equipped with an inbuilt adjustment axis (10 rounds / diameter 2.5 mm), this mini module delivers a contact, isolated from the input, as long as the monitored voltage exceeds the chosen threshold (from 0.46V to 2V).
Consumption iin:
Whatever the setting of the threshold, in the range "0.46V to 2V", the iin consumption of the detector remains below 1mA, as long as Vin has not exceeded the chosen threshold. Maximum allowed iin : 50mA.
The absorbed energy is all the lower as the voltage threshold to be detected is high.
Examples of

consumption

Threshold
to be detected

Applied voltage Vin

Consumption iin

0.5 V

0.43 V to 1.1 V

0.01 mA to 7.5 mA

2 V

10 mA

3 V

16 mA

1.0 V

3 V

4 mA

1.4 V

5 V

4 mA

Characteristics of the bipolar output contact (static relay):
Maximum transmissible current: ± 100mA
Maximum applicable voltage: ± 350V (open contact)
Transmissible power: ± 35W
Contact resistance: > 100 megaohms (open contact) and < 30 ohms (closed contact)
Dissipable power: 1W
Isolation from the input: > 4000V
Response time: 10 to 2 ms (decreases when Vin increases)
Protections:
Protection against accidental reversals of the input voltage (Vin ≤ 5 times the threshold to be detected, with Vin ≤ 6V)
Protection against vibrations and tropicalization with molding (IP67 sealing)
Isolation input / output: > 4000V
Increased reliability: no electromagnetic relay, no auxiliary power supply
Environment:
Storage temperature: – 40°C to +90°C
Operating temperature: – 20°C to +60°C
Temperature coefficient: – 0.2% to +1% / °C, with threshold to be detected varying from 0.46V to 2V
Standards:  EN55022/B; EN60950; CE marking; RoHS